Meet ORSC's Senior Contract Underwriter - Matt Payment
Posted by Melissa Miller
Matt shares stories of his road-tripping adventure down ORSC Avenue, from "Roll Tide!" to ocean life to Graceland to Music Row.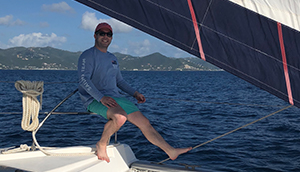 What do hard hats, site maps, neon vests, beams, boards, tools, WIP signs, rubble, dirt, cranes, bulldozers, and heavy traffic have in common? They're all necessary resources to reach the final destination of a project.
We trek through life looking for signs — signs that we're doing a good job and signs that we're on the right track. The signs we never yearn for, though, are those neon digital ones telling us in BIG BOLD LETTERS that we need to reduce speed for .. drumroll please .. construction.
"Stop! Slow down!" Those commands aren't exactly ear candy. But what if slowing down for a bit will eventually get you to where you're going faster? More efficiently? What if the short-lived wait will ultimately be worthwhile?
As a Senior Contract Underwriter, Matt's story chauffeurs us to a lookout point where our perception shifts gears to focus on the growth rather than the groan. In this new point of view, we see traffic jams becoming expanded highways, small schools adding classrooms, half-built buildings transforming into high rise offices — boosting the economy with quicker routes, extra accommodation for education, and more job opportunities.
Cranes may not be aesthetically pleasing to the eye, but what we are witnessing is hard work turning into dreams coming true. Construction zones, like career paths, are messy on the boulevard to miraculous — after all, you can't get to the clouds without taking the time to create an unshakeable foundation.
The Navigation: Discovering ORSC Avenue
When Matt graduated with a finance degree specialized in insurance, he drove away with the University of Alabama in his rear view. He wasn't 100% certain where he was going. He didn't even know what destination to plug into his GPS. But as he continued in forward motion, he saw an avenue pointing him in a surety direction. He turned onto it — and the robotic voice didn't scream, "You're going the wrong way!" or demand he turn around.
Turning onto ORSC Avenue, his whereabouts were unfamiliar, but he shifted the fear into curiosity rather than shifting the gear into reverse. He had to find out what exactly surety is.
So he applied. And he was hired in 2016 as an Associate Underwriter. "You travel to home office in Wisconsin for classroom setting training. And then you shadow Underwriters," Matt explains, "There is a willingness to pass the knowledge onto the next generation."
He quickly advanced to Contract Underwriter, and now only three years later, he is a Senior Contract Underwriter. "ORSC is invaluable when it comes to learning experience," Matt elaborates. "You learn quickly on the job."
The Stops Along the Way
So what's Matt plugging into his GPS these days? The saltwater sea all the way to Music City! His territories include:
Birmingham, Alabama
Gulfport, Mississippi
West Tennessee from Memphis to Nashville
And who else is along for the ride?
To excel in his role, he must always be in front of people. In his territories, he meets with existing clients to maintain the relationships and with agents to obtain new accounts. He works with a team of agents, CPAs, and other key personnel. Together they decide which projects they will step on the gas for and say yes to their bonding needs.
"Every business owner has a unique, individual style. I enjoy listening to them tell their stories. They're so proud of their work, and it's rewarding to grant them their chance," Matt expresses, highlighting that he and his team seek those good-solid-been-around-forever accounts. However, they also work with contractors who are right on the cusp. "I love providing financial advice to help contractors succeed and to watch them grow their businesses."
"The low-risk clients are the most appealing ones." Matt describes these individuals to be low in debt and high in assets. On the opposite end of the spectrum, Matt and his colleagues hit the brakes when a client's submission shows too much debt on the balance sheet — some examples of this are if a contractor purchased an unnecessary amount of equipment, financials aren't where they need to be, and/or the individual has terrible credit.
Side street to a fun fact: New Year's Eve in the Underwriter world is known as picture day. Contractors provide Matt with a CPA statement. In this snapshot, Matt looks for accuracy and a picture of what each contractor's project looks like for the entire year.
Of all his allotted territories, Matt's directional atlas has him parking his car in Birmingham the most — his biggest source of business. He describes each location to be distinguished in its own way and confesses that plugging Gulfport into his GPS is his favorite. Apparently the beach has him in the palm of its hand.
Speaking of the beach .. let's briefly venture down Mississippi's Highway 49 and pier (Get it? Pier?) deeper into one of Matt's most memorable on-the-job stories.
"It takes a while to rebound from the damage," Matt says in regards to the devastation from Hurricane Katrina. To recap the destruction of the August 2005 storm: 238 Mississippians lost their lives, more than 100,000 were left homeless, and thousands were out of work.
Through restoration and recovery, new creations have come to life, built to prevail against future storms. "It's a good feeling to watch people rebuild and reap the rewards after working that hard."
The Must-See Roadside Attractions — His favorite parts of the job
From state line to state line, Matt follows the yellow lines down open roads that contain many thrills along the way, providing the same level of elation everybody gets when the GPS says, "Traffic clearing up ahead. ETA 15 minutes early!"
Something tangible — Like getting a postcard, Matt is a huge fan of contractors who show pictures of the progress. And also of seeing the final product: "You can drive by and look at the project you bonded. You get to see the dream you were part of."
Extraordinary progress — Matt works with contractors who are now classified as "huge accounts" after starting with next to nothing 20-30 years ago.
Numbers — The financial aspect serves as a nice challenge. Numbers showcase which contractors are performing well and which are not. They also tell a story of how the company got to where it is now by providing an understanding of how it increased sales.
Marketing — A Senior Contract Underwriter gets the pleasure of continually meeting new people. As an active individual, Matt describes this as the perfect balance of time spent in and out of the office.
Autonomy — On top of getting to travel, he also gets to decide when, as he controls his own schedule.
Orange Barrels and Red Maps — The tough parts of the job
A city becoming the next "it" city doesn't look so pretty .. right away. As mentioned earlier, anything under construction often equals growing pains — AKA your map app showing every road lined in red. And sometimes not even Waze can reroute you because there is no other way than directly through the jam.
For Matt, these orange-and-red challenges include:
When contractors don't listen to advice. "You can lead a horse to water but can't make them drink," Matt says of these situations. He finds it frustrating when he knows a contractor is capable of doing the work but continues to make the same mistakes.
Having to say no to some submissions — "I like being in the position to give people a bond to build their dream, but sometimes the negatives override the positives."
It's Matt's job to not miss the forest for the trees — he shows us that the otherwise-three-lane interstates narrowed down to one lane and the slow-moving cars are small details for the greatness that is to come. So crank up the volume on your favorite songs (especially in Music City!) as you walk through rubble or drive through up-and-coming developments — the standstills and detours are momentary and the end result will be exceptional compared to what you once knew.
What's on the horizon?
From one x-marks-the-spot to the next, Matt continues to uncover treasures on ORSC Avenue. He describes himself as somebody with immense excitement for the brand new. While undeniably happy in his current role, he talks about wanting to manage a territory one day. "Preferably somewhere warm!" He adds laughing.
If you're like Matt — intrigued by the idea of a map to new places — let ORSC be your compass. Contact Old Republic Surety Company and check out our open positions!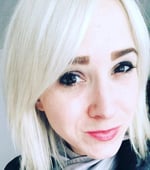 Melissa Miller is a Freelance Journalist for Old Republic Surety. She has worked as a Pop Recording Artist/Songwriter for film and TV in Nashville, TN for the last six and a half years. Melissa has approximately ten years of professional writing experience. Originally from Cedarburg, WI, she worked as the Key Event Coordinator for Milwaukee's Grand Slam Charity Jam via Kapco before relocating to Nashville in 2012. Melissa is a Summa Cum Laude graduate, with a Bachelors degree in Marketing/Advertising from the University of Wisconsin-Whitewater. She loves cookie cakes and traveling – so far, she has made footprints on every continent except for Antarctica.