Adventures of a Corporate Climb: Meet ORSC's Bond Manager — Scot Albrinck
Posted by Melissa Miller
Everybody has an Everest — a grandiose goal — Scot gives us a sneak peek (or perhaps we should say peak) into his.
Staring the mountain in the face
A few years ago, Scot Albrinck came across the opportunity to start up his own office in Cincinnati, Ohio. Wearing his past experience like the perfect pair of crampons gave him the confidence in knowing that he wouldn't slip. His prior training adequately prepared him for any glacier-like weather conditions — and so he decided to ascend, taking a leap of faith into a new position at Old Republic Surety Company.
Three and a half years later, this Bond Manager is a one-man show at an almost-four-year-old location. Scot is a highly active, go-getter individual and is not intimidated by hard work — he sees finish lines and thrives on crossing them.
But getting somewhere worth it is never easy. Specialized paths call for specialized workouts — in mountaineering terms, regular exercise at a lower elevation will not prepare a person for standing on top of the world. Therefore, Scot strategically considers every move on each new trail that pops up in his professional life — and before crossing any suspension bridges, he puts in the time he needs in order to stride and not stumble.
So what does equip him for those 29,035-feet-above-sea-level career goals?
Strong & clear communication with business partners — like agents and contractors
Establishing budget & growth goals
Analyzing & reviewing underwriting submissions & bond renewals
Frequently visiting his allotted territories to maintain & build relationships
And what does Scot's Everest look like?
Entrepreneurial — Scot largely describes his Bond Manager role as one where he has the liberty to not only climb the mountain but to guide the quest with his unique steps. With his own branch, he builds how he wants to build and works with who he wants to work with..
Surprising and exciting — he is driven by never knowing exactly what's around the corner. He doesn't want everyday to look the same.
Freedom from feeling boxed into an eight-to-five mentality — there are times he can up and go to Alaska on a whim (seriously, he just did that) and times when he finds himself answering emails at ten o'clock at night. He seeks a career that is naturally interwoven into his life rather than it being a separate entity.
Financial stability — the ability to support a spur-of-the-moment Alaskan adventure sound more than A-OK. (Or in this case — A-O AK.)
Once he joined the team, he quickly discovered that ORSC puts a check mark next to every trait that equals his Everest.
From Training Camp to Base Camp — looking back to see how far he's come.
In his high school days, Scot didn't even realize what he was getting in shape for. He breathed in his father's hardworking, entrepreneurial spirit, watching him run the family-owned electrical contracting company. His dad was the face of this partnership-run business for more than twenty years.
After graduating from The Ohio State University with a degree in finance, Scot followed in his father's footsteps .. sort of. He now works with contractors (instead of being one) and decides which contractors and projects to support. "In essence, I entered a field where my family was previously on the opposite end of the coin," he explains. "It's a unique perspective, having been on both ends."
Another chapter in his life before ORSC was spent walking uphill for eight years at a company where he eventually moved into a managerial role. In the climbing world, it is a known fact that when you ascend a mountain too quickly, you are at risk of getting HAPE — high altitude pulmonary edema. Knowing the detriments of going up too fast, Scot goes his own pace, exercising a rigorous and focused routine to improve his skills. This mindset and work out plan ultimately grew his feet to fit the shoes of the Bond Manager he is today.
The expedition towards the highest peak — always reaching new levels of elevation.
Yes, his previous experience positioned him for bond management — but climbing into the world of surety was breathing a new, unfamiliar air. "One page of our multi-billion dollar industry was part of the book from my insurance class. I had no idea what surety was," he recalls.
ORSC acted as his guide to becoming his own guide, providing him with the supplemental oxygen needed in order to breathe comfortably going into these higher altitudes. In surety terms — the education and training needed to excel as a Bond Manager.
"Once you learn the industry, many opportunities open up to you," he explains. And on his pursuit, he certainly acquired (and continues to acquire) the knowledge.
The states he predominantly supports are Ohio, Kentucky, and West Virginia. The flat roads of Ohio and rolling hills of Kentucky, where he spends the majority of his time, are the roads that helped him build endurance and strength to summit his dreams.
He passionately talks about working with a team of agents and contractors, and he describes his relationships with them as being on the same page and having a mutual business respect.
"We get to choose who we want to do business with in this world," he explains. "We work with people because we want to .. not because we have to."
The falls, avalanches, and sudden storms — the hard parts of the job.
As the saying goes: "Teamwork makes the dream work" — but climbing with others can sometimes be tricky. Different personalities can cause a bottleneck in the decision making process.
Another challenging aspect of bond management is growth. Like climbing, there is a season for construction. Scot states that the heavy bidding season generally falls in the beginning of the year because contractors seek financing for projects they want to begin in the summertime with another late summer push for winter work. Therefore, February through August can be arduous months of getting bids out and getting financial information all at same time. In Scot's experience, he's learned that a good year bumps up the budget, while a tough season can have you fighting to achieve your set goals.
Reaching a Himalayan-like altitude also calls for a great attitude — Scot talks about how he must always be out and in front of people to maintain strong relationships, while also building new ones. He enjoys this part of the job but elaborates that it can sometimes prove to be a challenge. At the actual Mount Everest, flying into Lukla is the first step. Lukla's short runways leave very small room for error, so pilots must be on their A game. Without Lukla, there's no expedition; without Scot's relationships, there's no business.
Standing on the roof of the world — the best parts of the job.
Scot loves new experiences and new relationships, which both frequently occur on the job. He happily dubs the world of surety as small in number but big in exposure. And he finds great joy in picking up new business accounts, helping people, and watching their projects soar: "Growing contractors and watching them succeed and being a part of that is rewarding. I tend to connect with contractors when I share my back story. [Of working with his father.]. Hopefully that leads to a level of partnership and trust."
He notes that watching infrastructure being built all around is another adoration of the job. And he describes the industry he works in as strong, cutting edge, and innovative: "Architects and contractors are always attempting to make things look new and different. They put their own stamp on it. Everything is innovative in its own right."
One of the most exhilarating and attractive facets of Scot's career is that boredom is nonexistent — the Everest within it is ever-growing. When the highest peak is reached, an even higher one becomes visible, thus allowing the constant creation of new goals.
To summit all up (oops .. we mean sum it all up) — there are many shades of adventure in the Bond Manager life.
"ORSC has a small company feel, even though we're growing and larger," he emphatically says in appreciation of his place of work.
Scot goes on to explain his short term goals as further branch growth and expansion. In the long term, he says he may someday be interested in expanding his geographical footprints to a regional role and beyond.
"I love my role that I'm in right now," Scot happily confesses. "ORSC has incorporated ways of upward mobility for personal growth, and they specifically created our different roles to allow for career advancement as you move along while still maintaining a flat organization. The more opportunities you have, the better."
Sounds captivating for those adrenaline-seeking people looking to tether themselves to the ropes that will take them to greater heights! If you have a Kathman-do attitude paired with an adventurous soul, ORSC wants to serve as your Sherpa to the top! For more information about careers at Old Republic Surety Company, go to careers.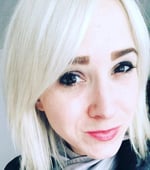 Melissa Miller is a Freelance Journalist for Old Republic Surety. She has worked as a Pop Recording Artist/Songwriter for film and TV in Nashville, TN for the last six and a half years. Melissa has approximately ten years of professional writing experience. Originally from Cedarburg, WI, she worked as the Key Event Coordinator for Milwaukee's Grand Slam Charity Jam via Kapco before relocating to Nashville in 2012. Melissa is a Summa Cum Laude graduate, with a Bachelors degree in Marketing/Advertising from the University of Wisconsin-Whitewater. She loves cookie cakes and traveling – so far, she has made footprints on every continent except for Antarctica.