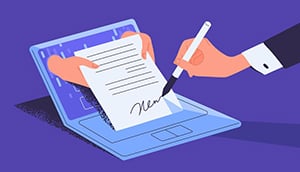 More than half of U.S. states have passed laws allowing document notarizations to take place remotely - known as Remote Online Notarization (RON), or virtual notarization. Audio-visual technology, such as webcams and remote signature platforms, allow the notary and the signer to conduct the identification and verification process.
Since the COVID-19 pandemic, RON has become more popular, with many states adopting emergency orders approving remote online or electronic notarizations in order to comply with stay-at-home and social distancing orders.
Just like a traditional notary public, the remote notary serves as an impartial witness to the signing or authentication of a legal document. According to the National Notary Association, the duties of a notary are to screen the signers of important documents for their true identities; to sign the document they are witnessing without duress; and to be aware of the contents of the document.
Some typical personal or business documents that require notarization include wills, deeds, trusts, commercial leases, insurance policies and surety bonds.
With remote online notarization, neither the signing party nor the notary needs to leave the comfort of their own home or office to have a document notarized.
How Does RON Work?
A RON is much like an in-person notarization except that the signer appears before the notary via audio-visual technology or web cam. Many states with RON laws also require online notaries to use a dedicated remote online notarization platform to conduct secure notarizations, limiting fraudulent activity. Commonly used technology platforms and solutions include DocVerify, Nexsys, Notarize and NotaryCam.
Remote Notary Identification Process
To conduct a remote notarization, the notary must still be able to identify the signer. Following are the steps in the process:

Like a traditional notarization, during a RON, the signer must show an identification document to the notary on camera so that the notary can read the information on the ID. The ID must meet state law requirements.

Then, the notary will request that the signer allow the remote notary technology platform to capture an image of the signer's ID. The image is then transferred to the platform for credential analysis — an automated process to verify the information and security elements of the identification documents.

Next, the notary will initiate a knowledge-based authentication, or a KBA. The signer must answer computer-generated questions that only the signer could be expected to know about their personal history or financial information. For example, a signer may be asked to correctly identify a car model they've owned in the past 10 years out of five possible options.

The specific requirements for identification for RON can vary from state to state. Some states allow a credible witness who knows the signer to verify the signer's identification for the remote notary.
RON or Electronic Notarization: Key Differences
There are distinct differences between remote notarization and electronic notarization. However, there is sometimes confusion about the two methods since they both incorporate technology in their processes.
The main difference with electronic, or e-notarization, is that although electronic signatures are used, the notary and the signer still must be physically present in the same room, as they would for a traditional paper notarization. In an e-notarization, documents are captured in an electronic format, such as a Microsoft Word or PDF document, and presented on a computer, laptop or even a mobile device. The notary and the document signer both sign the document using an electronic signature. The notary then affixes his or her electronic seal on the document.
Where is RON Permitted?
States with RON laws establish their own technology standards and requirements. As of October 2020, these 26 states have enacted some form of remote online notarization law: Arizona, Colorado, Florida, Idaho, Indiana, Iowa, Kentucky, Louisiana, Maryland, Michigan, Minnesota, Missouri, Montana, Nebraska, Nevada, North Dakota, Ohio, Oklahoma, South Dakota, Tennessee, Texas, Utah, Vermont, Virginia, Washington and Wisconsin. Alaska law to enable remote notarization will take effect in January 2021. Only 15 of those states (including Alaska) have their remote notarization procedures in place, however, meaning that notaries are not yet able to perform online in the other 12.

During the COVID-19 pandemic, numerous states implemented emergency authorization of remote or video notarization. Even states without permanent remote notary laws put emergency measures into place so that notarizations could continue.
Requirements to Become a Remote Notary
The process to become a remote notary may differ from state to state. In some states, the applicant must already be an established notary before becoming a remote notary. Some states require remote notaries to complete an education class through an approved agency.
In most states, however, applications to become remote notaries are processed by the state government, usually through the secretary of state's office. Some states require applicants to submit a notary public surety bond. Once approved, the documents are sent by the state government to the applicant's local county clerk's office.

A remote notary is required to purchase online notary access tools, such as document verification software or other platforms. Typically, online notarization companies provide training for their systems and platforms.
Safer, More Convenient Notarizations
Remote notaries have become essential during the pandemic. Thanks to the technology that makes RON possible, notaries have been able to perform their duties while maintaining social distancing. This allowed many businesses to continue processes and operations. For example, surety bonds that were required to have wet signatures prior to the pandemic can now be electronically signed and remotely notarized.
If you have any questions regarding the processing of such surety bonds, remote online notarization or any other surety needs, please contact your nearest local Old Republic Surety branch.
Topics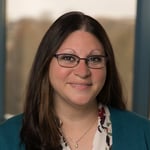 Beth Harbeck is the Midwest Regional Vice President of Commercial Surety for Old Republic Surety Company. She is located in West Des Moines, IA. Beth has been in the surety industry for 20+ years. She worked for Merchants Bonding Company and Nationwide Surety and Fidelity before joining Old Republic Surety Company in 2014. Beth loves to travel, entertain, and watch sports.