7 Red Flags For Contract Bonds & Strategic Approach Fixes
Posted by Mike Sanders, AFSB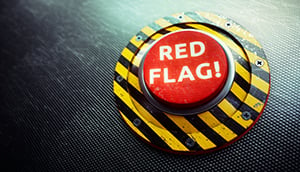 In the process of considering a contract bond request, there are certain circumstances that can raise red flags for a surety underwriter. To maximize their surety credit, it is important for contractors to understand what factors could be cause for concern and possibly even a declination. In this short summary, we've highlighted seven red flags to be aware of and give suggestions on how to explain or avoid them.
Here are seven red flag scenarios contractors might face and our suggestions for addressing them:
Having an existing claim with your current surety. This is an obvious sign that something is awry and a clear caution for the underwriter against becoming involved with your bond request.
Strategic Approach:Resolve claims and disputes quickly without involving the surety. If that is not possible, cooperate fully with the surety claims department and try to close them out as quickly as possible.


Attempting a project that is significantly larger than anything completed in the past. Any time you take on a project that is much larger in scope than what you successfully managed in the past, you run the risk of outstripping your ability to handle it.
Strategic Approach: If a project you are bidding is large, submit a clear explanation with your bond request outlining how you plan to handle the increased risk, including demand on available resources, labor, equipment, etc. Perhaps you've hired new talent that will enable you to complete the job successfully. Any information you can give the underwriter that explains your reasoning for taking on this project will be helpful.


The project is outside of your normal geographic territory. Taking on a project that is outside your normal geographic territory will be cause for concern to an underwriter. There are extra costs involved - both labor and equipment that could cause unexpected strain on your resources. Market conditions and competitive environment could be significantly different from what you are accustomed to.
Strategic Approach: If a project you are bidding is outside your normal territory, be sure to submit an explanation of how you plan to deal with the increased risk assumed by pursuing work far from home. Any information you can share that explains your reasoning for taking on this project will be beneficial. If territorial expansion is a part of your strategic plan, make sure that you expand gradually and that you have the resources to handle it.


The project is outside of your specialty. Underwriter's want to see that you have the necessary experience in your chosen field to successfully complete the project you are undertaking. Undertaking projects that are outside your established expertise can be an issue.
Strategic Approach: Again, the underwriter will look for an explanation as to how the work will be performed and the increased risk addressed. In other words, what skills and expertise do you have in-house to make the project happen? Perhaps you have added new talent, or you've discovered that your staff has past experience in a trade that you were unaware of.


Significant dependence on someone with no "skin in the game". If the success of a project relies heavily on an employee who is not fully committed to that goal, that employee will probably not see the importance of putting in a full day's work and bringing in a profit. Everyone involved with your company must contribute to its success.
Strategic Approach: Owners should closely supervise all contracts. Adequate cost systems allow the owner to monitor employee performance in real time so that employees who do not act in the best interest of the company can be quickly corrected or asked to leave. Owners should review and approve all bids; at least above some threshold. Estimators and project managers should be compensated based on the profitability of each job (including the collection of all payments due from the customers).


No working relationship with your independent agent. Underwriters rely heavily on their agent's recommendation of your business in the underwriting process. An agent who doesn't know you can't be relied upon to vouch for your excellent character and adherence to good business practices.
Strategic Approach: To maximize the chance of obtaining the surety credit you need, it is recommended that you develop a strong working relationship with a qualified bonding agent. An experienced agent will understand your business, your financials, and know best where to obtain the surety credit you deserve. You may also want to get to know a few other bond producers in your area just in case your relationship sours.


Lack of quality financial statement prepared by a Certified Public Accountant. Underwriters depend on CPAs to provide reliable and comprehensive snapshots of your financial position. Relying on internally prepared financial reports can occasionally produce inaccurate information. Without the verification provided by an independent professional CPA, the surety underwriter must do verifications of their own.
Strategic Approach: Have your financial statements prepared by an outside CPA. This will give the underwriter a higher level of assurance that the statement is accurate. Relying on a CPA that adheres to best practices in conformance with generally accepted accounting principles allows the surety to evaluate the statements more quickly. It may cost more money to have the statements prepared by a CPA, but the cost is often offset by a maximization of surety credit and a better surety rate.
Old Republic Surety Company has bonding capacity of up to $50 million. We have a long-standing reputation in the surety industry for fair, consistent and stable underwriting. We partner with a pool of professional agents across the country who utilize our expertise to coach and consult with contractors both large and small. Contact your independent insurance agent about a contract bond program with Old Republic Surety Company.
Topics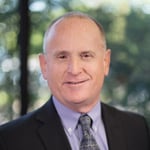 Since 1999, Mike Sanders, bond manager, has overseen the underwriting and operations of the Milwaukee Contract Branch office. From 1992 until 1999, Mike held responsibilities in another of our large branch offices, working with both contract surety and commercial bond business. Mike launched his surety career with Aetna Casualty and Surety Company, where he handled the marketing and underwriting of all lines of bond business. Mike holds a bachelor's degree in finance from Drake University and has an Associate in Fidelity and Surety Bonding (AFSB) designation.