The world certainly had it's ups & downs in 2022. Despite the external turmoil, Old Republic Surety stayed our course in giving back - whether monetarily, through food and supply donations, or with our time, employees lived out what it means to be a part of community. It's also why it is one of our core values: "Generous - we do what we can to help others achieve more."
Ukrainian Relief Campaign & Company Match
Old Republic launched an internal, enterprise-wide giving campaign to the American Red Cross to aid the people impacted by the Ukraine crisis. Every dollar that employees of Old Republic and its companies contributed to this campaign was matched dollar-for-dollar by Old Republic, up to a total campaign goal of $250,000.
A Place of Refuge Baby Drive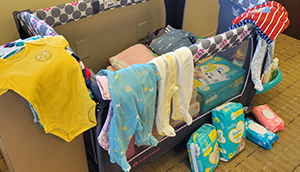 Old Republic Surety employees participated in a baby drive to benefit the charity, A Place of Refuge. Over 100 items were donated to support mothers in times when they are faced with extraordinary costs. Some of the items donated included a Pack & Play, baby bath tub, diapers, clothing, wipes, and infant toiletries.
Bunks Across America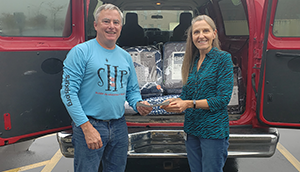 Several of our employees participated in Sleep in Heavenly Peace's national bed building day, Bunks Across America. Throughout U.S., many children go without a bed - or even a pillow - to sleep on. They may end up sleeping on couches, blankets, and even floors which can affect their happiness and health. Sleep in Heavenly Peace is a group of volunteers dedicated to building, assembling, and delivering top-notch bunk beds to children and families in need.
Briggs & Al's Run & Walk - Partnered with ORRM
This September we partnered with Old Republic Risk Management in the Briggs & Al's Run & Walk to support programs and services to create a brighter future for Wisconsin kids. Our team, the "Risky Runners" ran throughout downtown Milwaukee and raised over $2,000!
Ronald McDonald House Visits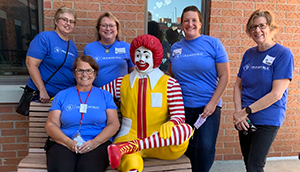 Several groups of employees volunteered at the local Ronald McDonald House, packing "To-Go" lunches and toiletry kits for the families staying at the house while their children receive treatment at Children's Hospital of Milwaukee. Another group volunteered for the Christmas Fantasy House event selling baked goods and raffle tickets, answering questions of guests, and being docents in each room decorated in the house for the Holidays!
Hunger Task Force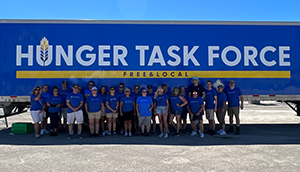 Many of our employees volunteered with the Hunger Task Force this August. A group of employees worked at "The Farm" which provides a steady, reliable source of fresh produce for their food bank during the Wisconsin growing season. Another group volunteered at State Fair in Wisconsin accepting food and cash donations, distributing ticket coupons, and helping load food onto the Hunger Task Force transportation vehicles.
Backpack Coalition Drive - United Way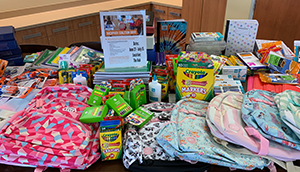 ORSC employees collected supplies for the United Way's Backpack Coalition Drive. Items such as backpacks, binders, crayons, paper, notebooks, pencils, markers, and glue sticks were donated to be distributed to local students through nonprofits and Milwaukee, Waukesha, and Southern Washington counties schools.
Hurricane Ian Relief Campaign & Company Match
As an organization, Old Republic outlined an enterprise-wide hurricane relief giving campaign benefitting the American Red Cross. Every dollar that employees of Old Republic and its companies contributed to this campaign was matched dollar-for-dollar by Old Republic, up to a total campaign goal of $250,000 to fund ongoing Hurricane Ian disaster relief efforts.
Sponsoring Tables at Charity Events
This fall, Old Republic Surety sponsored a table at three different charity events including the Cystic Fibrosis Breath of Life Gala, the Grand Slam Charity Jam benefitting children facing trauma including those who attend Camp Hometown Heroes for children of fallen U.S. service members, Camp Reunite for children who have an incarcerated parent, and Happy Tails Gala supporting HAWS, an open-admission, no-kill shelter dedicated to strengthening the relationship between animals and humans through adoptions and education.
ORSC Annual Charity Auction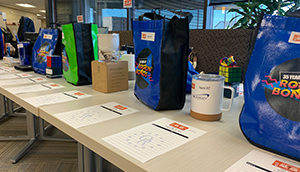 Annually, Old Republic Surety hosts an Auction & Bake Sale with our branch offices to raise money for a charity, chosen from employee-nominated charities. This single day event raised $3,500 to help families experiencing homelessness or facing the threat of homelessness through Family Promise of Waukesha County's program of prevention, shelter, and stabilization.