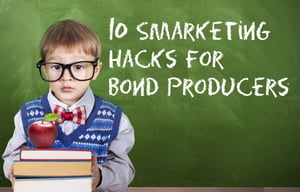 Smarketing is a term used to describe the synergy between sales and marketing that is aligned around common goals focused on increasing revenue. With smarketing in mind, we've taken our knowledge of the bond producer's sales hat and applied it to some simple marketing concepts to create these smarketing hacks for the surety world — but really, the concepts can be used anywhere. These 10 hacks will help bond producers enhance their visibility and grow their book of business.
1. Market yourself
Yes, you are a bond producer. You work for a specific agency, or you own the agency yourself. You have x number of years in the surety business. You have x markets. Everyone can say basically the same thing.

The really compelling stuff is your story — who you are.

Do you ride a tandem bicycle 80 miles a week? Do you have a life-long goal to take in a game at every major league baseball stadium before you die? Do you hike on the Appalachian Trail? Or, perhaps you're a stamp collector. What you do in your spare time can be fascinating to those you want to get to know. It's a conversation starter at the very least.

We all know that the stigma of being in insurance is just a notch above used car salesmen. Let's undo that perception. Make insurance and surety human. Expressing who you really are —your story — can be the door opener that really works.
2. Have a "Top 10" board
Dry-erase boards are the bomb when it comes to prospecting. Hang one in your office. Whether it's a top 10, or 20, it doesn't matter. What matters is that you have it in front of you every single day — staring you in the face. Reminding you that you have a goal, that you've committed to getting in front of these contractor prospects. Sure you may have a CRM that keeps track of all of that — that's great! But nothing does the job quite like a whiteboard and a dry-erase marker.
3. Tag team with your property-casualty producers
If you are a p-c house, this will be easier for you than if you are a stand-alone agency that only handles surety. I've got ideas for both.

First, if you're lucky to have p-c producers in your agency, which ones concentrate on construction? If no one does, is there a producer who's game? Do they have a whiteboard in their office? Who's on their "top 10"? Any contractors? Suggest that you tag the team and try to get in the door together.

If you are a stand-alone agency that handles only surety, I suggest tapping into an agency that doesn't offer surety. Do you have any referral sources? Within the agencies that are referring to you — again, what's on their "top 10"? Tag teaming with them will help both of you succeed.
4. Google Alerts
Google Alerts is a fantastic tool to help you stay on top of anything — subjects, stocks, names, businesses — anything.

Imagine a hot prospect, a contractor you've wanted to write to for a long time. How do you keep on top of their world? What's happening with the business owner? Set a Google Alert with their name, the business's name, and perhaps the CFO. You'll get an email when that person shows up in the news. How cool would it be if you got an alert on a prospect that they just won contractor of the year or one on a younger contractor that was just nominated to The Business Journal's 40 under 40? Be one of the first to know. Send off an email, give them a call, or mail a congratulatory note. If you aren't on top of the news, someone else will get to your prospects first. Learn how to set up a Google Alert at google.com/alerts.
5. Get your foot in the door
Think outside the box when it comes to grabbing 5 or 10 minutes of their time. They screen their calls, and the receptionist is highly trained to protect their time. How can you set yourself apart from the barrage of vendors they get daily?

Here are a few ideas that might help, and just a hint — most have something to do with serotonin, the chemical that contributes to happiness and well-being. Serotonin is mostly absorbed through the digestive organs. Hence, the food ...

Chocolate works for anything! Be clever with the wrapper. Use a Hershey's Mr. Goodbar and change the wrapper to be the prospect's name. Change the wording on the wrapper to reflect your expertise. Hand-deliver the chocolate, and make sure you bring one for the receptionist.

Steak works well, too. Grab a few rib eyes, a few potatoes, your favorite seasoning, and deliver a ready-to-go meal in a temp-controlled bag. A few brewskies don't hurt either. Give your prospect a week to digest this nice gesture, and then give them a call. It would be hard to turn down a call, or not call someone back who did something nice like that, don't you think?

More food. Try sponsoring a safety meeting and bring donuts. The crew will love you for it. The boss will like a happy crew.

Since their time is so precious, and you want to respect that, offer to get their car washed. Meet them at their favorite car wash, and while the car is going through the wash, spend 10 minutes giving them your elevator speech and why you are worthy of more time from them.

Being creative is really what it's about. Don't be afraid to try something different.
6. Do your detective work
Make it a goal to know anything and everything there is to know about your prospects. Where do they live, play, and serve? Do they have a dog? Kids in soccer? Where did they go to college? Their favorite sports teams? The more you know, the closer you are.

You might think that you are five or six degrees of separation from them when really you are only two. That's the premise behind LinkedIn. But a lot of contractors aren't on LinkedIn, so you have to do it the old-fashioned way. Hopefully, you have CRM (customer relationship management) software that can hold this information for you. If not, use Excel or Outlook.
7. Dig into the books
There could be a few commercial contractors interested in branching into public work but don't really know how to make that leap. They need someone who knows the ins and outs of the bidding and bonding side of that business. You could be that perfect resource. Never underestimate the possibilities of what could be with a contractor that has their eyes open to new ideas. They could use your help. And your bonds.
8. Tap your surety
Your surety should have plenty of resources for you to use and share. At Old Republic Surety, we create blog articles that educate our bond producers and that can be shared with their contractors. That makes our agent a superstar knowledge source. Subscribe to our blog. We only publish what we know you can use. And there are always great topics in the hopper.
9. Batchgeo.com
Our underwriters and field reps prospect just as much as bond producers, and they have just as many customer meetings. They must be efficient and organized on the street, which is why we use Batchgeo.com. Take any spreadsheet, add the places you need to go, and build a map with it. You'll be amazed at how much more efficient your day on the road will be once you map it out. Go to batchgeo.com or easymapmaker.com.
10. Easily digestible tidbits to share
Contractors and business owners are super busy. Why not help them keep on top of trends with quick easy reads or infographics? A simple search on construction trends will land you a lot of options. If you share, give credit to the source. It's a super-easy way to let your prospects know you are on top of construction trends, and a great way to keep clever information at your fingertips. Here are a few good sources for construction infographics:

• gocanvas.com/content/blog/post/8-great-construction-infographics/
• letsbuild.com/blog (a Danish site but still relevant)
• constructormagazine.com

We hope that at least one or a few of these smarketing tips will resonate with you in your effort to increase your book of business in the surety world. Keep Old Republic Surety in mind for all of your contract or commercial bond needs. Our goal is to help our agents succeed.
Topics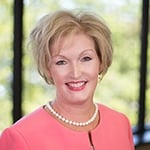 Traci Catalano, Sr. Vice President, Marketing, joined ORSC as part of the company's continual efforts to strengthen brand presence and increase market share. As Vice President of Marketing, Traci is responsible for all branding and marketing communications efforts including website and online presence, e-communications, trade shows, contests, promotions, social media and special events. In addition, Traci plays a key role in fostering a culture of engagement to encourage the passion behind ORSC's great employee brand ambassadors.