Construction Company Do's and Dont's of Smart Contract Bidding
Posted by Old Republic Surety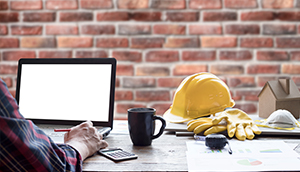 This article originally was published by the National Association of Surety Bond Producers and is being republished with the express permission of NASBP.
Placing a bid on a public construction project comes with a host of risks for both contractors and public entities. A surety bond is an essential risk management tool for contract bidding that guarantees a project will be completed successfully at the lowest possible price in an effort to save public tax dollars, while verifying that a contractor can deliver on their promise.
It's important for construction companies to take the time to understand surety bonding when placing bids. Working with an agent who is well-versed in surety bonding and together with the surety underwriter can help ensure the bid is cost-effective for the principal (the entity or company the bond is being provided for and guaranteeing the work of; i.e., the contractor) and low-risk for the obligee (the public entity doing the hiring or the general contractor hiring out subcontractors).
Here are the do's and don'ts of bidding smarter with bonding in mind from a contract surety underwriter who is a former electrical estimator who grew up in and around the construction industry.
DO understand what a surety bond is. As mentioned, a surety bond guarantees to the owner of the project that the principal will complete the project as stated within the contract up to the contract amount. A surety bond is not a "loan" that can be used whenever funds are needed — the surety is only obligated to perform under the terms of the bond after the contractor has been terminated from the contract. Bond premium is due in full at the time the final bonds (performance, payment, and possibly maintenance) are executed. Although sureties typically do not charge for bid bonds, the bid bond guarantees the contractor will enter into the contract for the amount bid.
DON'T swing for the fences with your first surety bond. There's no room for risky business when first establishing a surety bond program and relationship with your surety. Try to build a track record with your surety as much as possible before chasing the largest contract your company has ever undertaken.
DO plan ahead. If you hastily slap together a bid, chances are you either won't win the job or even worse: You won't be able to deliver at the price you initially bid and can end up losing some or all of the profit you expected on the project. Taking the time to organize and fully outline every detail of your bid can potentially save you from increased costs from construction delays or overlooked contract details. And remember: No two projects are the same. You can't copy and paste a bid from a previous project, no matter how similar they may seem at first glance.
DON'T use plug numbers in a bid. Make sure you've fully vetted a project before coming up with your bid number. When planning a bid, review the scope of work and general conditions to see if there are any items that can be used for markup, such as cost increases in response to lien waivers. Avoid the price-per-square-foot approach whenever possible and stay away from the "we'll figure it out later" attitude just to secure a project to keep your labor force busy. What you'll end up figuring out later is that it costs much more to fix mistakes than it does to cover all your bases upfront. As an owner once told me: "Dollars spent up front save thousands down the line."
DO keep communication lines open. When planning a bid, have continuous open discussions with your owner and/or general contractor, subcontractors, and your surety. In terms of subcontractors, make sure you understand who has what scope and what it will cost. For example, are site clean-up and trash hauling within the general contractor's scope or the sub's scope? Are they both including this scope in their prices?
Have pre-bid meetings with subcontractors to clearly define each scope of work and create a checklist of what you expect from each sub, so they know exactly what they are meant to do. Create a schedule for each phase of the project and each scope, so each subcontractor knows exactly when they are expected to be on site and how much time they have to complete their part.
DON'T stop updating the project schedule. Even after a bid is awarded, it is important that the general contractor keeps up frequent communication with their subs, especially by continuously updating the project schedule. If one sub is a week behind on their work, the next scheduled subs down the line need to know, so they don't show up a week before the site is ready for their work.
DO compare the prime contract with the subcontract. Make sure there are no gaps or conflicts between the two contracts, and clearly understand the order of precedent between them (i.e., if the subcontract has terms that conflict with the prime contract, know which one overrides the other). If you are a subcontractor, make sure to verify any pass-through language in the specs of the subcontract to make sure you know if any liquidated or other damages being applied to the general contractor will also be applied to you as the subcontractor.
DON'T sign a contract you aren't familiar with or that is not a standard AIA contract without having your surety underwriter provide a risk review for any onerous clauses. Your surety wants to be your partner and is an asset for your company — utilize their expertise.
The surety sees different contracts all the time — even contracts with different terms from the same owner/general contractor. For example, one way your surety can help is to check if a contract you received from the obligee is the "A," "B" or "C" contract from that entity. They also know what parts of a contract can be negotiated more than others (i.e. liquidated damages, wavier of lien notices, amount of weather days, etc.).
DO have a full understanding of your bond premium. Because premium is due and collected at the time final bonds are executed, it is easy to forget to include it in your bid. Make certain to include your bond premium as well as any subcontractor bond premium within your bid. Omitting the cost of surety bond from your bid will decrease your profit on the job. It is rare that bonds are waived if they were a requirement in the bid specs.
DON'T use your construction company as a bank. If you had a profitable year, you need to consider the future of the company. There are many ways to spend a windfall, but the construction market is cyclical. Stay focused in a good construction market and avoid using working capital or equity to invest in "opportunistic ventures" like real estate development or flipping houses. Always save money during the good times so that you won't need to accept lower margins on work during a down construction cycle.
However, if you do have an investment opportunity you are considering using these funds for, talk to your surety and get their thoughts before you do invest.
DO build a culture of safety within your company. Make sure to build and nurture a culture within the company that puts safety at the forefront. Insurance premiums and workers' comp claims are expensive and can add up quickly — and they eat directly into your profits since you are not able to write them off directly to a job. A safety culture also shows employees that their employer cares about their well-being. Celebrating "X amount of days without an injury" on a project is one way to foster this goal.
These do's and don'ts will help contractors bid smarter and protect profits. As a surety bond producer, you have insights and information about the role of surety bonds in bidding and contracting, to help your construction and contractor clients growth their business.
For more surety tips and resources, head over to NASBP's Contract Resources page.
If you have any questions about anything regarding surety, contact an appointed agent, or reach out to an Old Republic Surety branch nearest you.
Topics