Old Republic Surety Underwrites Improvements to Historic Battleship
Posted by Rich Sghiatti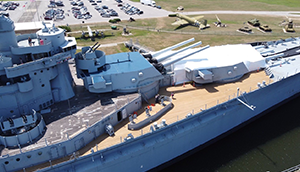 The USS Alabama, an 80-year-old battleship commissioned during World War II, is the main attraction at Battleship Memorial Park in Mobile, Alabama. With more than 15 million visitors since the park opened in 1965 and nearly $1 billion in economic impact to the state, the ship is an important part of military history and a source of pride for the people of Alabama.
When the USS Alabama Battleship Commission decided to restore the ship's main, teak deck, it faced two monumental challenges: raising over $8 million for the project, and keeping the ship open to visitors while the old deck was removed and new wood was laid.
A Five-Phase Project Over Three Years
The solution was to complete the restoration in five phases over three years, allowing public access during the deck work. Youngblood-Barrett Construction & Engineering LLC of Mobile, Alabama, was selected as the general contractor.
"From the very beginning, the commission made it clear that it wanted guest experiences to continue, and that all work should be done with the utmost respect given to the original methods and designs of the ship," construction manager Chris Dunning explains.
Altogether, 23,000 square feet of deck will be replaced. Modern engineering techniques such as 3D mapping and laser cutting will ensure the new deck matches the original specifications. Teakwood Decking, the primary subcontractor, has built a mock-up of the deck at its Sarasota, Florida, facility. As wood is needed for each phase, it's shipped to Mobile.
In addition, safety measures are in place to contain lead, asbestos, and other hazardous materials during demolition. Large white containment tents have been erected over the work site, and workers must use HEPA filters and wear hazmat suits.
Phases one and two are complete, and the entire project will be finished in 2024.
Old Republic Surety Steps Up To Bond The Project
Before phase one could begin, however, there was one more challenge. Youngblood-Barrett's previous surety company declined to back the project. That's when Marsha Greene of the risk consulting firm Valent Group stepped in. She asked Wayne Messick and Richard Sghiatti of Old Republic Surety to look at the proposal.
"Without Old Republic, this project might not have happened for us," Dunning explains. "Marsha brought Wayne and Rich down to our office, and we walked through the project. Thankfully, they were just as excited about the opportunity as we were."
"The day Youngblood-Barrett made their presentation, Old Republic was on it," Greene recalls.
"There were a few underwriting issues," says Messick, "but we knew if we could resolve those, it would be a project we could get behind 100%." Among the concerns:
Financing

. The commission hadn't met its goal of raising $8.5 million, but it subsequently secured a loan to ensure contractors would be paid.

Bonding the primary sub. Most of the project cost, $6.5 million, is for work performed by Teakwood Decking. It also has been bonded.
Severe weather. With Mobile on the Gulf Coast, and the project stretching over three hurricane seasons, Old Republic Surety wanted to be sure the materials were properly protected and insured.
New And Longtime Partners Come Together
Messick and Greene have worked together on projects for years. So when Greene was approached by Youngblood-Barrett, she knew the person to call.
"Wayne has a wonderful way of interacting with our bond clients," Greene says. "He guides them through the process. He's very supportive and always wants to meet with the client to get to know them."
Says Dunning: "It meant a lot that Old Republic was willing to sit down with us. They're the first bonding company we've had that's wanted to have boots on the ground and see firsthand how a project's going. Old Republic has shown an active, engaged interest in us and our work."
Since then, Old Republic Surety has bonded several other projects for the company. "We're excited about our future with Youngblood-Barrett," Messick says.
USS Alabama Project at a Glance
$8.05 million bonded project, in five phases over three years, 2022–2024

Replacement of teak decking on historic, World War II battleship in Mobile, Alabama
Owner: USS Alabama Battleship Commission, Mobile, Alabama
General Contractor: Youngblood-Barrett Construction & Engineering LLC, Mobile, Alabama
Agent: Marsha Greene, vice president, commercial insurance and bonds, Valent Group, Mobile, Alabama
Old Republic Surety representatives: Wayne R. Messick, AFSB, bond manager, Trussville, Alabama; Richard Sghiatti, regional vice president, Atlanta, Georgia
USS Alabama Stats
Commissioned: 1942

Length: 680 feet
Weight when fully loaded: 42,500 tons
Crew: 2,500
Nickname: "Mighty A"
Source:
USS Alabama Battleship Memorial Park website, accessed Dec. 19, 2022
Related Links:
Topics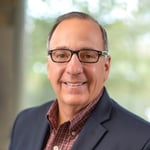 Rich Sghiatti is Regional Vice President of Contract Surety Operations of Old Republic Surety Company in Louisiana, Mississippi, Alabama, Tennessee, Georgia, Florida, North Carolina, South Carolina, and Virginia.